Synopsis
Welcome to the world of industrial food production and high-tech farming! To the rhythm of conveyor belts and immense machines, the film presents epic images showing the places where European food's produced: monumental spaces, surreal landscapes, bizarre sounds. People, animals and crops play a supporting role in this system providing our society's standard of living. A wide screen tableau of a feast which isn't always easy to digest - and in which we all take part.
Film Credits
Producer:
Markus Glaser
Wolfgang Widerhofer
Nikolaus Geyrhalter
Michael Kitzberger
Writer:
Wolfgang Widerhofer
Nikolaus Geyrhalter
Starring:
Claus Hansen Petz
Arkadiusz Rydellek
András Szarvas
Tibor Korom
More Information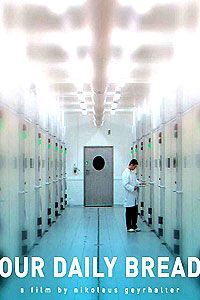 Rating:
12
Suitable for 12 years and over
Films classified 12A and video works classified 12 contain material that is not generally suitable for children aged under 12. No one younger than 12 may see a 12A film in a cinema unless accompanied by an adult. Adults planning to take a child under 12 to view a 12A film should consider whether the film is suitable for that child. To help them decide, we recommend that they check the Ratings info for that film in advance. No one younger than 12 may rent or buy a 12 rated video work.
Country:
Austria, Germany