Synopsis
A looming disaster in one of the most spectacular environments on Earth sparks a rescue mission unlike any other in SEA OF SHADOWS, a riveting new documentary with the intensity of a Hollywood thriller from National Geographic Documentary Films and winner of the Sundance audience award. When Mexican drug cartels and Chinese traffickers join forces to poach the rare totoaba fish in the Sea of Cortez, their deadly methods threaten to destroy virtually all marine life in the region, including the most elusive and endangered whale species on Earth, the vaquita porpoise. SEA OF SHADOWS follows a team of dedicated scientists, high-tech conservationists, investigative journalists and courageous undercover agents as well as the Mexican Navy as they put their lives on the line to save the last remaining vaquitas and bring the vicious international crime syndicate to justice.
Film Credits
Producer:
Walter Ko¨hler
Wolfgang Kno¨pfler
Wolfgang Knöpfler
Walter Köhler
Starring:
Carlos Loret de Mola
Cynthia Smith
Jack Hutton
Andrea Crosta
Javier Valverde
More Information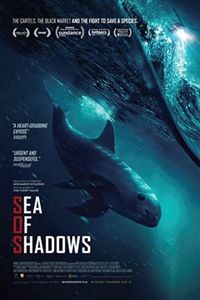 Rating:
12A
12A Certificate
Films classified 12A have been deemed appropriate for viewers of twelve and over. However, they can also be seen by younger children - provided they are accompanied by an adult who has deemed the film appropriate viewing for that child. In such cases, IFCO strongly recommends that parents/guardians make informed decisions by accessing the consumer advice available on this website.
Advisory:
infrequent strong language, scenes of real violence, moderate threat
Language:
English, Spanish